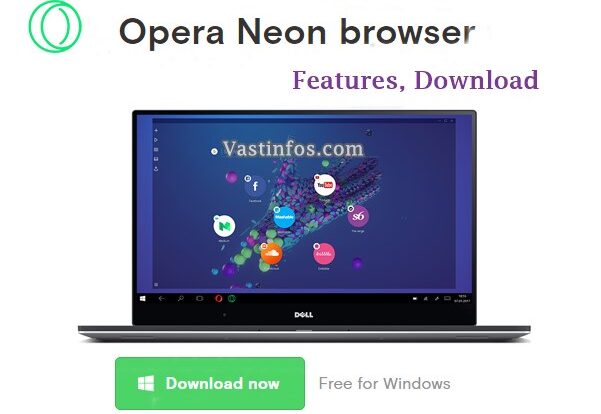 Opera Neon Web Browser is concept browser by Opera. It is the newly released advanced web browser by Opera. This browser is featuring advanced features empowering the modern web browsing experience. Opera says Neon is an alternative reality for Opera browser.
Opera Neon is made possible from Chromium open source project and other open source projects.
Features of Opera Neon Web Browser
Advanced UI Experience
The existing Opera browser is rebooted with advanced UI features like better and fresh style of speed dials, omnibox, multi tabs. You can bring the desktop wallpaper to the browser. Or Opera offers a set of awesome wallpapers.
Flexible and smooth multi tabs
Easily controllable tabs for multitasking with smooth experience in switching. It offers something more than a usual experience of as a window to the internet.
Advanced Tools in Opera Neon
Advanced Tools offered by the Opera Neon Web browser are:
Video PopOut – It provides a solution to play video or music without changing the tabs.
Snap Tool – Snap images from live websites quickly and easily
Gallery Tool – Snapped images can be pushed to the gallery and reusable by dragging and dropping.
Split Screen Mode
It helps to browse multiple web pages simultaneously in a single tab by splitting the tab as left, right. Web pages can be dragged and dropped tot he split tabs.
Download Opera Neon Web Browser
Opera Neon Web Browser Video Demo
Opera Neon Web Browser comes up with new advanced features empowering the browsing experience. It improves the web browsing with better and faster tools. New cool UI features are looking awesome. Features like snap to the gallery are time-saving tools for bloggers, social media users etc. It helps to chat and browse in the same tab by splitting the tab.
It helps to chat and browse in the same tab by splitting the tab. Also offers quick and easy music, video playing tools for making mind free.
Tags
Features and new specifications of Opera Neon web browser – Whats new, Opera versus Opera Neon, Opera neon feature over chrome, opera neon official download offline installers, opera neon specs new features, opera neon for windows downloads, installer