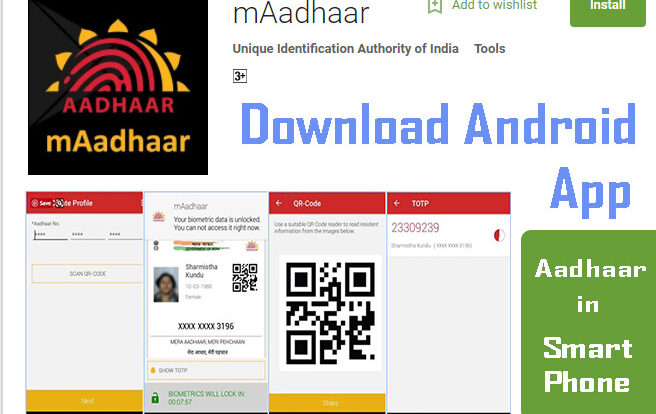 mAadhaar is the Android application provided by Unique Identification Authority of (UIDAI).
mAadhaar is developed with the purpose of providing a smartphone interface for the Aadhaar card holders.
Users can carry their demographic information like Name, Date of Birth, Gender & Address along with the photo as linked with their Aadhaar Number in smartphones.
Read: Samsung Galaxy On Max Price in India – Specifications – Features
Features of mAadhaar Android App
Profile download for Aadhaar number holder
This feature helps the users to conveniently carry their Aadhaar details anytime, anywhere through their smartphones.
Locking/unlocking Biometric details
Users can secure their biometric data using this locking feature. So unauthorized use for authentication using the biometric data can be protected.
If the lock is enabled then the biometric data cannot be used for any purpose like the bank, sim card authentication etc.
Generating time-based OTP (TOPTP)
Alternative for SMS based One Time Password (OTP). Time-based OTP is generated as the temporary password.
View Updated Profile View
This app enables users to view the updated version of their Aadhaar profile after the successful completion of the update request.
QR code and eKYC data sharing made easy through app
Enables users to share QR code and password protected eKYC data to retrieve accurate demographic information.
This is used instead of manual entry.
Requirements to use mAadhaar Android App
Registered Mobile number is required for using this App.
Else mAadhaar App users should register/connect mobile number to Aadhaar.
How to link mobile number to Aadhaar Card
Users can visit the nearest enrollment center to link mobile number to Aadhaar card
Related: Moto E4 Plus Price in India – Specifications – Features
Download mAadhaar Android App from Playstore
Download mAadhaar App .apk file
Tags
mAadhaar App .apk file download android smartphone – features of mAadhaar App App – functionalities – advantages – pros – cons – use of mAadhaar App – how to use mAadhaar App – how to link mobile number to aadhaar