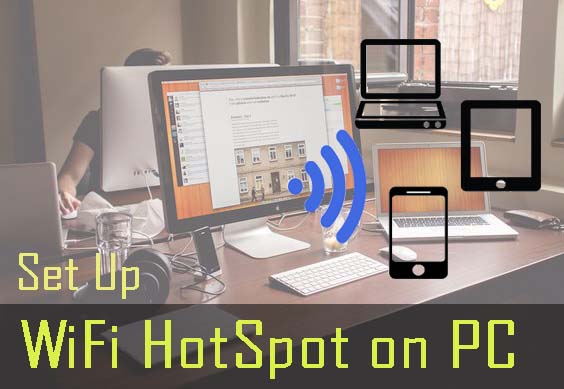 Wired internet connections are most commonly used on desktop PCs. Some use wireless adapters for using WiFi on the desktop computers. Suppose if you want to create a WiFi hotspot from your desktop computer's wired connection, then this tutorial would definitely help you.

So this is the easy tutorial for creating a wifi hotspot from your desktop computer which is having a wired broadband internet connection, data card internet etc. Thus share your desktop PC's internet to many other devices like laptops,tablets,smartphones etc through wifi hotspot.
Step 1: Setup Wireless Network Adapter
Firstly for setting up wireless connectivity, you need a wireless network adapter as an additional hardware component.
Most of the desktop PC does not have wireless adapters as inbuilt, in such case you can shop a USB Wireless network adapter. It can help you both in connecting your PC to a wifi network or to create a wifi hotspot on your PC.
You can get USB Wireless Adapter just for $3-$5 (Rs.200-Rs.400)
You can easily configure the wireless adapter with its own network driver software if required. After getting your network adapter ready, you can proceed to step 2.
Step 2:  Creating WiFi Hotspot
For setting a WiFi hotspot very easily all you need a simple, free, easy to use software called OSTotoHotspot
In the window of the software, you can configure the WiFi name & password
After setting the WiFi details, you can click on Turn on WiFi Option
Now you WiFi hotspot will be successfully created and the internet facility would be shared with it.
You can connect your devices to this desktop PC hotspot.
Enjoy sharing your desktop wired internet connection.
Tags
creating wifi from wired broadband internet connection, wired connection to wifi hotspot tutorials, adding wifi hotspot to desktop computer acer, dell, hp,lenovo , desktop pc hotspot wireless lan wlan tutorials, best usb wireless adapter for creating desktop wifi hotspot, usb wifi hotspot tutorials, best desktop wifi hotspot creating softwares