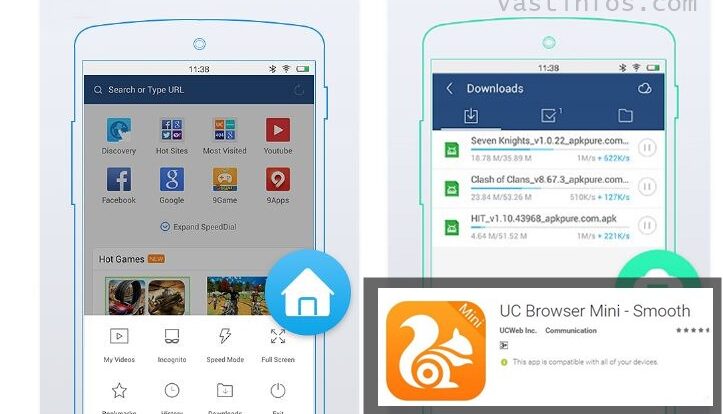 There are lots of web browsers available for Android mobile devices. Google Chrome is one the web browser for Android, which comes as inbuilt in the device. But Chrome is a heavy weight browser, which is powerful but eats up the device's RAM and slow downs. So for easily opening up URLs quickly we need light weight browser.
Here is the UC Browser Mini,
Light Weight Web Browser for Android
UC Mini is the light version of UC Mobile Browser. It is very advanced and has lots of necessary features. If you are looking for small size Android web browser application apk then this is the right one.
UC Mini is the simplest and light weighted android application which supports lots of advanced functionalities.
Special Features of UC Mini
UC Mini Android App is having very low size.
Multiple web pages can be loaded and browsed simultaneously.
Browse anonymously, without saving web history and user data.
UC Mini has the QR code scanner, which can be used to scan the QR codes and decode web page on it.
Advanced File Downloader – Cloud Support
Very efficient file downloader with better download option like cloud downloads etc. Users can store files to the temporary cloud storage or permanent U-DISK cloud storage. Later download files with better speed from the cloud provided by UC.
Browse web during the night without harming your eyes.
Advanced data saving options are available. UC mini helps to load web pages more efficiently by saving the data.
Get real-time facebook notification alerts from UC browser.
Download UC Mini from PlayStore
You can enjoy faster internet browsing using the UC Mini light weight mobile browser. It is very cool and efficient, it won't hang your smartphone. It is having tiny size.
Tags
Best mobile browser for android faster and hanging free browser, low size browser for android qr code supporting -best android browser cloud download support, night mode browser , incognito size best small size browser android apk application downloads playstore, latest uc browser apk downloads